POR - Privatization
POR is being privatized on September, 19th, 2017!
9/13/2017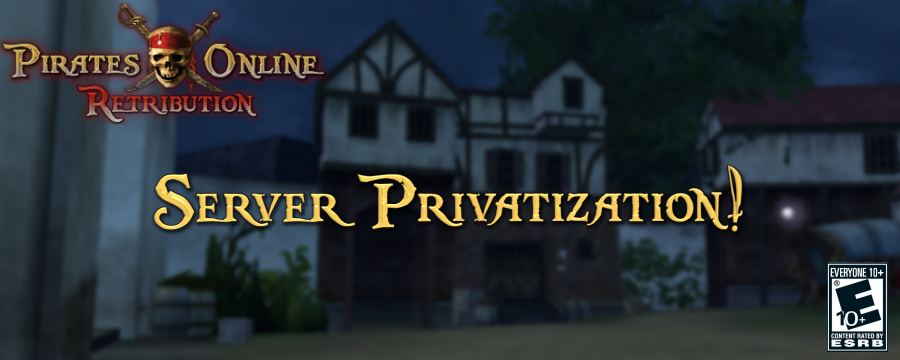 As you all know, I (Pearson Wright) will be resigning on September 19th. However, before I do, there's a number of important matters that I'd like to clarify first, and some affairs that I'd like to get in order. (This has nothing to do with TLOPO, drama, or any of that other nonsense.) READ MORE HERE: https://piratesforums.com/threads/pirates-online-community-future-plans.4534/
IMPORTANT: If you are a POR Staff member, or current POR Pirate God and/or at least a Pirate King level subscribed donor, you need to PM me your POR username on Discord here: https://discord.gg/ehbXqzF immediately so that your access level can be updated prior to the privatization so that you can retain your access to POR!
Once again, requirements to access the privatized GM version of POR:
(You must be one of these three)
POR Staff member
Pirate King subscriber
Pirate God purchaser
(The perks of the King/God ranks will be different than as listed on our website. As a King/God on the privatized version of POR, you will be a Game Master, and essentially be able to do anything short of ban/kick/mute someone. This includes being able to give yourself unlimited gold, any weapon, any piece of clothing, turn yourself into a ghost, make yourself undead, etc. To subscribe before the 19th, visit: https://piratesonline.us/rewards-store/)
Be sure to join us on our Forums over at https://piratesforums.com as well to connect with yer fellow Pirates and Swashbucklers here at POR!
Fair Winds
~
The Crew @ Pirates Online Retribution
Comments

It's been a great ride everyone!


It's been such an honor to be staff here <3


You have a wonderful life ahead of you Pearson, you did your best and poured your heart and soul onto this game. I'm proud to be a part of this!


POR will be missed :(


What a shame. POR had so much potential. :(


It was a fun ride , a valiant effort for the POTCO community .

'
'
You must log in to comment