Welcome to the Pirates Online Retribution project! We are a group of highly dedicated developers, financiers, and designers hellbent on resurrecting the now defunct popular MMO, Pirates of the Caribbean Online. Together, we are restoring lost hope to a very special community. Retribution is at hand!
Hosted on six Intel Dual Xeon E5-2630v3 servers to ensure optimized performance!
Fully certified game developers, and design artists!
100% Free to Play, and always will be!
Quality customer support from our admins and moderators!
Top of the line DDOS and Hack protection firewalls to ensure 100% uptime!
Frequent content updates, and server maintenance
Battle against the undead legions of Jolly Roger. Create your own crew or guild. Plunder enemy vessels on the high seas, and seek to become the most notorious pirate in the Caribbean all over again! Are ye' finally ready to relive the legend?
Time to celebrate Mardi Gras!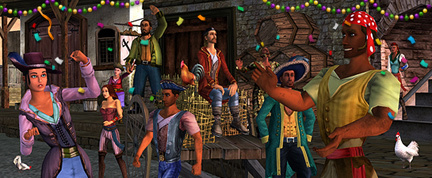 This Friday, the 24th marks the beginning of Pirates Online Retribution's first Mardi Gras GM event here in the Caribbean. Gather yer best mates and take the party from town down to the beaches of Tortuga, Abassa to join in all of the festivities!
As is custom for this very special holiday, GMs will be handing out large quantities of random items, including clothing, weapons, and jewelry to all who attend.
What: Mardi Gras Celebration
When: Friday, February 24th | 6:00pm - 9:00pm EST
Where: Tortuga, Abassa
Be sure to join us on our Forums over at https://piratesforums.com as well to connect with yer fellow Pirates and Swashbucklers here at POR!
Fair Winds
~
The Crew @ Pirates Online Retribution