Welcome to the Pirates Online Retribution project! We are a group of highly dedicated developers, financiers, and designers hellbent on resurrecting the now defunct popular MMO, Pirates of the Caribbean Online. Together, we are restoring lost hope to a very special community. Retribution is at hand!
Hosted on six Intel Dual Xeon E5-2630v3 servers to ensure optimized performance!
Fully certified game developers, and design artists!
100% Free to Play, and always will be!
Quality customer support from our admins and moderators!
Top of the line DDOS and Hack protection firewalls to ensure 100% uptime!
Frequent content updates, and server maintenance
Battle against the undead legions of Jolly Roger. Create your own crew or guild. Plunder enemy vessels on the high seas, and seek to become the most notorious pirate in the Caribbean all over again! Are ye' finally ready to relive the legend?
Treasure awaits in the Grotto!
Join us next Friday and meet up with Game Masters!
8/9/2017
Comments (10)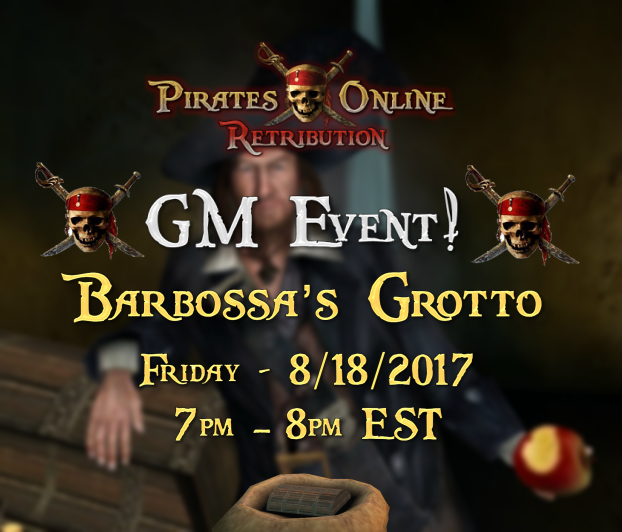 Avast young swashbucklers, and old buccaneers! It's been a while since we've hosted a GM event here at Pirates Online Retribution, and so to break that recent period of idleness, the crew here at POR will be venturing to Barbossa's lair on Devil's Anvil next Friday, August 18th, at roughly 7pm Eastern Standard Time to gift out heaps of rare treasures, and legendary items to all who choose to attend! Be it also known that to show our appreciation for all who have helped us get this far, that any pirate who holds the title of Pirate King, or Pirate God shall receive additional rare items depending on his or her status. We encourage everyone who should choose to come to record the event, and to upload said recording to Youtube or elsewhere to help raise awareness about our swashbuckling MMO! Fair winds for now me hearties!
Be sure to join us on our Forums over at https://piratesforums.com as well to connect with yer fellow Pirates and Swashbucklers here at POR!
Fair Winds
~
The Crew @ Pirates Online Retribution