Are ye ready to raid?
Join us in a spectacular show of strength against the British Navy!
11/13/2016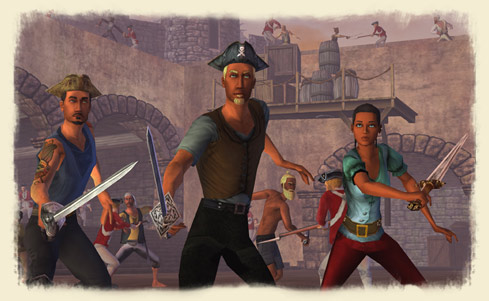 Ahoy there all ye pesky pirates and lazy landlubbers! For years, we've been harassed and hunted down by Navy blokes and EITC thugs, but now the time has finally come to unite together under one black flag for a massive two pronged counter offensive against the dreaded British Navy and their EITC counterparts! We be needin' as much help as we can get as this'll truly be a major undertaking for what was once thought to be not but a humble band of lonesome pirates!
Join us this coming weekend on Friday and Saturday, November 18th, and 19th at the docks of Kingshead on the Abassa, Andaba, and Exama oceans as we fight to reclaim what is rightfully ours! Both raids will commece at roughly 5:00pm (EST). Those who survive the fight will be granted handsome rewards worthy of their dedication to the cause, and to keeping the Caribbean free forever!
Be sure to join us on our Forums over at https://piratesforums.com as well to connect with yer fellow Pirates and Swashbucklers here at POR!
Fair Winds
~
The Crew @ Pirates Online Retribution
Comments

AMAZING!!! THE HYPE TRAIN HAS LEFT THE STATION! GREAT DAYS AND WHAT A GREAT TIME!!! ITS GONNA BE LIT!!


cant wait :D


Hope to see you all in game! This is very exciting.


I am so excited!!!!! :) I hope to see everyone there


I CAN NOT WAIT IM GONNA GO BE SUPER SAYIN OWN THEM


Its like what actual pirates did, excited to be apart of this!!


:)


This is a great idea, I'm hyped for next weekend :D


Nothing like a good raid to put ye in the pirate mood


Looks amazing will definitely try to be there :D


Excited for this weekend fun! Thanks so much!


Add IPad And Linux Support


Arrr! Me broad sword be ready to split the britches of those scoundrels!


cant wait savvys


Just can't wait :D


im download but i cant play what happen?


Hope to have a raid again. This one was fun!

'
'
You must log in to comment