Double yer Rep this Week!
Double yer Reputation, mates!
11/2/2016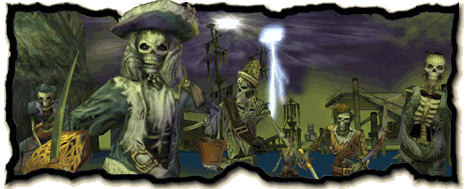 This week, Pirates can earn DOUBLE the normal experience points for defeating enemies on land, brewing potions, and fishing.
Don't ye dare miss these chances to boost yer skills and Notoriety:
WEDNESDAY, Nov. 2 (5pm - 11pm) ALL Pirates
THURSDAY, Nov. 3 (12am - 11pm) ALL Pirates
FRIDAY, Nov. 4 (12am - 11pm) ALL Pirates
SATURDAY, Nov. 5 (12am - 11pm) ALL Pirates
SUNDAY, Nov. 6 (12am - 11pm) ALL Pirates
(All timezones are EST | Eastern Standard Time U.S.)
Be sure to join us on our Forums over at https://piratesforums.com as well to connect with yer fellow Pirates and Swashbucklers here at POR!
NOTE: Double Reputation applies to fishing, potions, and PvE!

Fair Winds
~
The Crew @ Pirates Online Retribution
Comments

Sounds great will definitely be using it :D


YAY I WILL ACTUALLY BE HOME FOR A FEW OF THESE! I CAN'T WAIT!


Nice!


Tried kept getting booted off servers,potions booted me off to.no one seems friendly on servers and the chat is horrible.Like the game waiting on quest ships,and Invasions.


Sounds great! Gonna enjoy it!


Awesome!


Harr! Now's the time ye landlubbers! Kill everything in sight! Take it all and give nothin' back savvy?!


Sounds amazin'! cant wait


My game is not loading someone help pls


I can't get game to load at all and neither can my daughter. Getting increasingly discouraged. Would REALLY like to play!


DOUBLE TROUBLE!!


Loving it!


Nice, but is anyone else crashing a lot?


I like it but is anyone else crashing all the time?

'
'
You must log in to comment